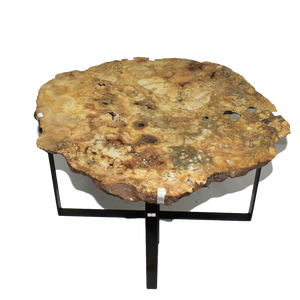 30"L x 27"W x 16 ½"H
99Lbs
 -----------------
Rose Amethyst crystals can vary in natural color from deep orange or yellow, to green and even pink. Super-luxury quality formations large enough to cut into tables are exceptionally rare, and only a few batches are produced a year worldwide.
This particular table bears rich hues of yellow, with slight undertones of earthy brown and green. We acquired it because it represents permanence and authority. As always, Nature's Decorations works with artisans who let the beauty of the raw natural stone speak for itself.
 -----------------
Our Statement Tables are meant for high-design homes, or for the hotels and businesses who cater to discerning customers. These are one-of-a-kind pieces carefully excavated and cut from one monolithic natural crystal formation.