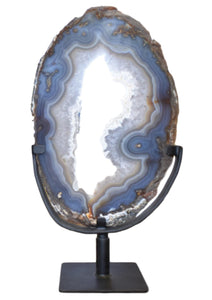 Accent any room with agate ellipses on a metal base. The stone is known for its stabilizing and protective properties, so it brings a sense of balance to your space.
-Stone comes in grey, brown, and blue to fit in with your décor.
-Metal base holds the healing stone secure.
-Approximately 11 inches high, but each stone is unique
Dimensions (Approximately): 11"H
This item is sold per pound and we currently have two different prices for sale! Choose the one that better suits your needs and budget!